Diabetes is a chronic (long-lasting) health condition that affects how your body turns food into energy.
Most of the food you eat is broken down into sugar (also called glucose) and released into your bloodstream. When your blood sugar goes up, it signals your pancreas to release insulin. Insulin acts like a key to let the blood sugar into your body's cells for use as energy.
If you have diabetes, your body either doesn't make enough insulin or can't use the insulin it makes as well as it should. When there isn't enough insulin or cells stop responding to insulin, too much blood sugar stays in your bloodstream. Over time, that can cause serious health problems, such as heart disease, vision loss, and kidney disease.
There isn't a cure yet for diabetes, but losing weight, eating healthy food, and being active can really help. Taking medicine as needed, getting diabetes self-management education and support, and keeping health care appointments can also reduce the impact of diabetes on your life.
Possible Symptoms of Diabetes 
Angina (chest pain caused by heart disease), high blood pressure, stroke, and other circulatory ailments. Other symptoms:
Fatigue
Weight loss
Blurred vision
Tingling hands and feet
Red, swollen, tender gums
Excessive thirst and increased urination
Slow-healing sores or frequent infections
More serious complications of High Blood Sugar
If you notice the following signs and symptoms, make an appointment to see your doctor:
Increased thirst and urination
Fatigue
Blurred vision
Unexpected weight loss
Increased hunger
Slow-healing sores and frequent infections
Red, swollen gums
Tingling or numbness in your hands or feet
Lifestyle changes to improve Diabetic Complications

Careful diabetes care can reduce your risk of serious — even life-threatening — complications.
Make a commitment to managing your diabetes
Quit Smoking
Keep your blood pressure and cholesterol under control
Schedule regular physicals and eye exams
Keep your vaccines up to date
Pay attention to your feet
Take care of your teeth
1 daily dose of aspirin
Avoid alcoholic drinks, or reduce to minimum if possible
Take stress seriously
Types of Insulins (Injectables)
Rapid Acting Insulins begins to work about 15 minutes after injection, peaks in about 1 hour, and continues to work for 2 to 4 hours
Regular or short-acting insulin usually reaches the bloodstream within 30 minutes after injection, peaks anywhere from 2 to 3 hours after injection, and is effective for approximately 3 to 6 hours
Intermediate-acting insulin generally reaches the bloodstream about 2 to 4 hours after injection, peaks 4 to 12 hours later, and is effective for about 12 to 18 hours
Long-acting insulin reaches the bloodstream several hours after injection and tends to lower glucose levels fairly evenly over a 24-hour period
How Are Doses Scheduled?
Rapid acting insulins: About 15 minutes before mealtime
Short-acting insulins: 30 to 60 minutes before a meal
Intermediate-acting insulins: Up to 1 hour prior to a meal
Pre-mixed insulins: Depending on the product, between 10 minutes or 30 to 45 minutes before mealtime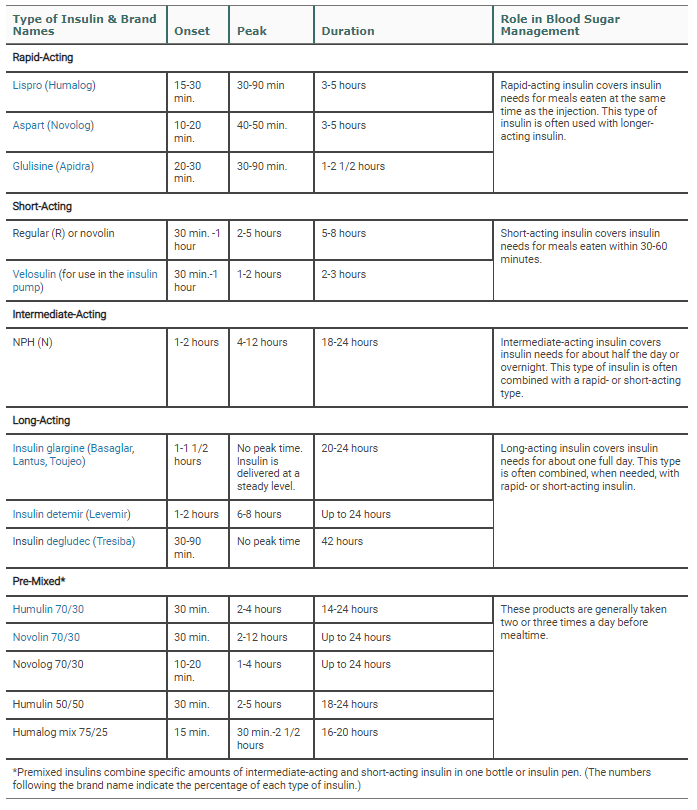 Common Medications used in Diabetes Control
Alogliptin (Nesina)
Albiglutide (Tanzeum)
Canagliflozin (Invokana)
Colesevelam (Welchol)
Dapagliflozin (Farxiga)
Empagliflozin (Jardiance)
Dulaglutide (Trulicity)
Exenatide (Byetta)
Exenatide extended release (Bydureon)
Glipizide (Glucotrol)
Glimepiride (Amaryl)
Glyburide (DiaBeta, Glynase)
Linagliptin (Tradjenta)
Liraglutide (Saxenda, Victoza)
Lixisenatide (Adlyxin)
Metformin (Glumetza, Riomet, Fortamet)
Miglitol (Glyset)
Nateglinide
Pioglitazone (Actos)
Rosiglitazone (Avandia)
Pramlintide (Symlin)
Repaglinide
Semaglutide (Ozempic, Rybelsus)
Saxagliptin (Onglyza)
Sitagliptin (Januvia)